Description
Magnificent elegance
A graceful accessory
The charming Turquoise Pendant Necklace will wonderfully complement your daily outfits and become a fantastic addition to your jewelry collection.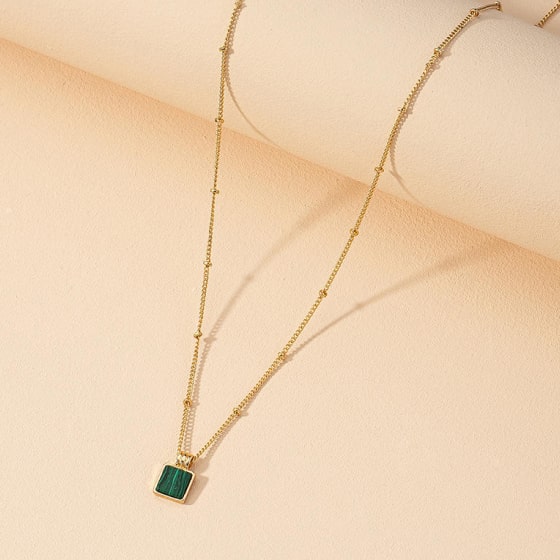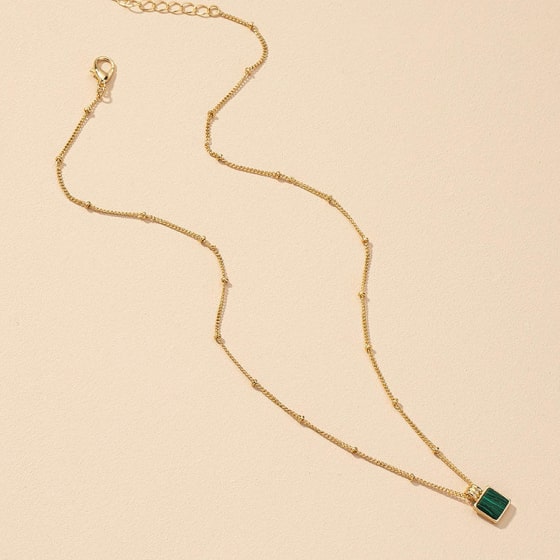 The accessory made to turn heads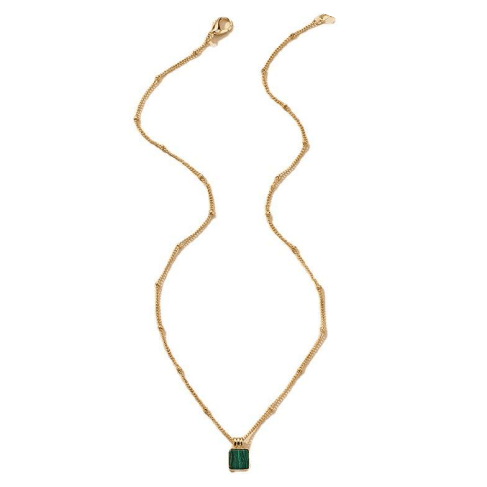 Necklace details
Color: gold-toned. Type of chain: cable. Weight: 0.53 oz. Material: zinc alloy.
Care tips
Store in a dry place in a ziplock bag. Wipe with a soft cloth. To prevent your skin from turning green, coat the necklace with clear nail polish before wearing.
Perfect for any occasion
Designed to follow the natural curves of a lady's neck and collarbone, the Turquoise Pendant Necklace will look lovely with any outfit, casual or classic. It will add some charm to your natural beauty and boost your confidence.
Its very pretty and cheap! Its simple but it catches the eye because of the green color and suits my style. The length is adjustable which is a really good feature for me. It doesn't look cheap at all!

So cute and looks like the picture. The green sticks out a little but from front on you can't tell. The chain is gorgeous and the clip at the back isn't stiff at all. Really pretty and do recommend :)

Super cute! It goes with any outfit. I love the simplicity and elegance of this necklace. Going to get more. Great for summer dresses to add a touch of femininity. Must have!

this is such a cute necklace! i love it and i don't regret buying it at all. i can't wait to wear it. it's the perfect length and you can adjust it! love it so much

It really looks like gold, it is hard to say that it's fake gold. The gem is sooo beautiful. It is not heavy and I will wear it everyday.

It's a little shorter than I was expecting, but I might be able to swap it for another chain. Very pretty tho. Love the green

Fits nice but the green part is brighter green than I thought it would be (it's not a dark forest green color) but still cute

super cute and the chain details are very nice. good quality clasp and chain, bright colours on the charm.

It broke the day after I got it (I slept with it on) but I was able to fix it myself- overall it's pretty but not durable

Super pretty! Looks exactly like the picture! Chain isnt best quality (might turn skin green), but i love the detail!

Gorgeous addition to a layering moment but can also be worn alone and still have the same effect

It's really pretty and cute. I love the colour and it looks classy. Will definitely be wearing it daily

Very pleased except for the fact that it's very very tiny, expected the pendant to be a bit bigger but overall pleased

I love this necklace I love the green and it goes with anything and it looks so expensive

Looks like a faux malachite stone . It's a petite pendant , perfect for everyday wear

So so so pretty! The colour and the quality is amazing! So cute to layer with

Super cute necklace. Not as long as it looks like it might be but fairly detailed.

Very cute and beautiful, fits with everything. Overall looks excellent 💞

Haven't worn it out but absolutely in love. So pretty, looks elegant as well.

This is a beautiful and delicate piece, it's lovely to wear and super chic!

Absolutely love this simple elegant necklace which goes with any outfit

Such amazing quality! It looks stunning and perfect for layering

Super cute and dainty necklace. Looks exactly like the picture.

The green is a little lighter than I thought but still very cute!!

Looooove this necklace, so elegant and just as pictured!!!

Love this necklace, looks just like my birth stone

basic but it's actually cute & good material!

This is just stunning! Looks so expensive!

Love love love! Really nice quality ❤️

I love this necklace. It is beautiful.
Payment & Security
Your payment information is processed securely. We do not store credit card details nor have access to your credit card information.