Description
Out of this world
Be ready to rock the world in these stunning UFO Earrings. Their cosmic beauty will definitely make you stand out!
Be the center of attention!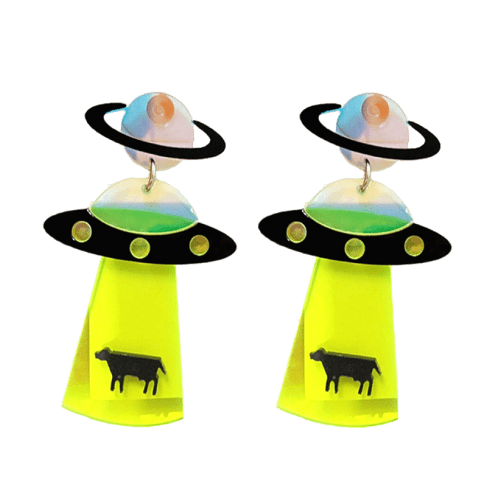 Earrings details
These crazy cute UFO Earrings are made of resin. Size: 2 in.* 1.2 in. in size. Weight: 1.06 oz.
Care tips
Do not submerge in water. Store out of sunlight. Avoid exposing the earrings to harsh chemicals and cleaning products.
UFOs have never been more real!
Let's face the truth, we are not alone in the universe. Wear these awesome UFO Earrings to attract all the other UFO believers out of the crowd! The UFO Earrings will look great with any outfit, casual or fancy. They will add an extraordinary touch to your natural beauty and boost your confidence.
Very cute and detailed earrings. Also, these ones glow under UV light which is even more fun. They looked weird when I first took them out of the package and then I realised there was still a vinyl film on some of the parts. (don't forget to remove those!) they are very lightweight and very fun

Very cool! At first I was afraid that on the earring a crack, then I realized that it was a film. The protective film was on each element of the earring. For this price is just amazing)

Very beautiful and bright earrings, on the whole surface there was a protective film (even on a cow), which is very cool, I just love them ✨

The earrings themselves are very good quality, they look unusual on their ears. All parts are covered with a protective film. 10/10!

Excellent. It even comes with a plastic that protected him from scratches. I'm happy. Thank you very much!

They look charming, exactly like in a photo. "Ray" stealing the cow is slightly shimmering, I'm delighted!

Earrings are excellent. Completely covered with protective film. I did not find any defects.

They are very cool and original. They're very big but they don't weigh anything.

Beautiful, I was worried they were too big and heavy but no, they're perfect

After a couple of days of wearing them there are some scratches already.

Excellent product, nice material, just as pictured, definitely recommend

Love these!!! They look exactly like the pic. Can't wait to wear them :)

I love these earrings, I get compliments on them ALL THE TIME!

Beautiful, just like in the picture though smaller than I imagined

I love them, they look exactly like in the picture, very pretty.

Very light and do not cause discomfort when you wear it.

They're beautiful, even cuter than you see in the picture

I had one a little bit scratched but it's not noticeable

Smaller than I first thought but oh so cute!

A little bigger than I thought but cool!

Incredible earrings, I'm delighted!
Payment & Security
Your payment information is processed securely. We do not store credit card details nor have access to your credit card information.