Description
Is your phone afraid of the outside world?
If so, then it's not going to be anymore. The water-resistant bike mount holder is the escape from all of the fears. Go wherever you want and don't ever worry about damaging your phone.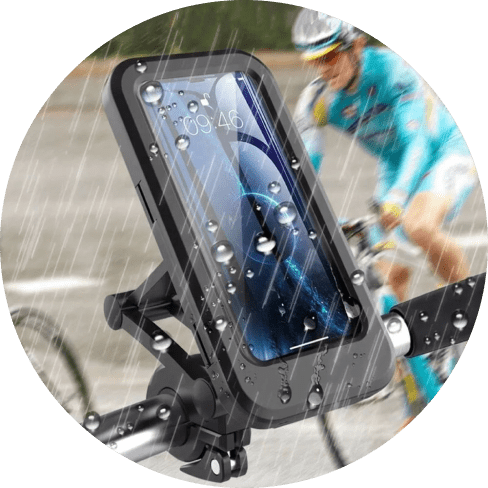 Sleek and functional holder
Why is it unique?
Durability
Made from high-quality plastic, our holders are not only made to protect your phone, but also to last. Soft lining inside the holder protects your phone from scratches.
Adjustable
Adjust your phone however you need to. 360 degrees rotation gives you total freedom in using all of your device's capabilities like there's no holder at all.
Versatility
It doesn't matter what kind of phone you have. The size is perfect for devices with size: 4-6.7 inches. The optimal handlebar size: 0.8 inches. Easy to attach: just locate and lock the nut.
Safety
Our holder effortlessly overcomes a lot of problems with its smart design: waterproof, dustproof, leakproof - it's a safe space for your device, no matter where you go.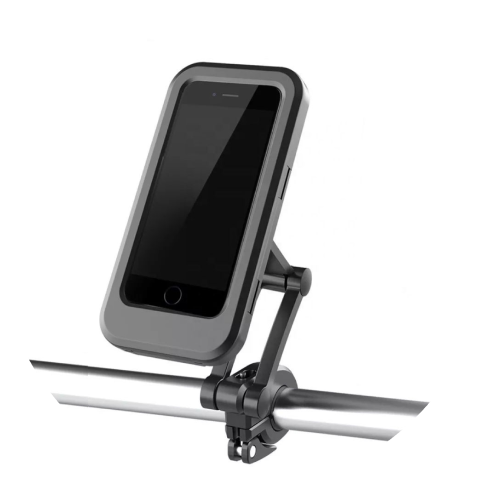 Convenience on a new level
A safe, versatile, adjustable, and durable phone holder will take the best care of your phone and relieve you from any worries about it being ruined. It's never been simpler and more pleasant to use your phone while riding a bike.
Nice product. I had my doubts about how sturdy the mounting would be but it's working out very well.

The case is perfect for my phone, fits like a glove and I'm very happy with it.

Easy installation, the touch screen is fast responding, there's plenty of room for your money and credit cards if you don't wanna take a wallet while you ride.

I put this on the handlebar of my Shadow RS; not too hard to install, but I have to rotate it a little to the right so I can see my lights and numbers. Great product for the price.

This is a wallet and a cell phone holder for your bike. Easy to install. The plastic does not interfere with the touchscreen. I play music from my phone and it does not appear to muffle the sound.

This phone mount was just what I needed. It's the perfect size for my iPhone XR and still has room for a wallet and keys. The touch screen works fine and I was able to see my phone screen in spite of a little glare. It's incredibly easy to install and seems to hold in place well.

I haven't used it yet, but my boyfriend has used it a couple of times, and he likes it. He likes to play music on a portable speaker when he rides home from work, and this case allows his phone to be super accessible without having to worry about dropping it or stopping to use it. Very high quality materials, would highly recommend.

Overall I'm really happy with this bike holder. It's easy to install and it's so nice to be able to just unclip it to take it off. It's perfect for when I use my bike riding app so I can see how far I've gone. Sometimes I have to be more deliberate when I use the touch screen so it will sense my finger but not enough to be too annoying.
Payment & Security
Your payment information is processed securely. We do not store credit card details nor have access to your credit card information.