Description
Grenade dog toy with rope
This grenade becomes an ideal reward toy for your working K9
Designed as a grenade with rope, this tug toy is supposed to become a perfect reward toy for your working K9 and not only. Meantime, it can serve as a slow feeder so you don't need to worry if your pet is full. It's made of absolutely safe and ultra-durable natural rubber compounds. So it's definitely PETstrong and there's no reason to worry if it will hurt your best friend somehow.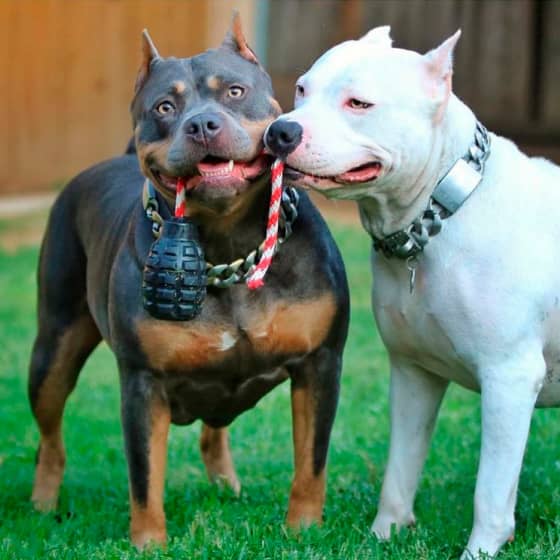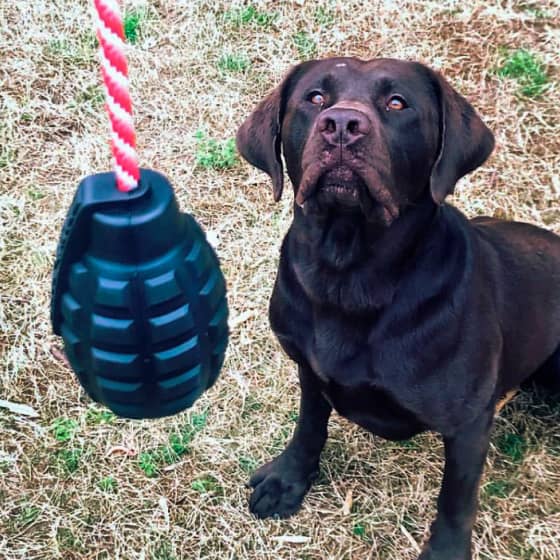 What's so special about it?
Enjoy a great old game of tug-of-war with your best fur-buddy with an animal & planet friendly pop top rubber tug toy. It's made of 100% safe materials widely accepted by veterinarians and with strict safety standards. It is sustainably harvested helping us reduce our carbon footprint. In fact, there's more to pay attention to.
Reduce problems of behavior
Veterinarian approved
Dispenses treats
Designed and manufactured in the USA
Easy to clean: dishwasher safe
About SodaPup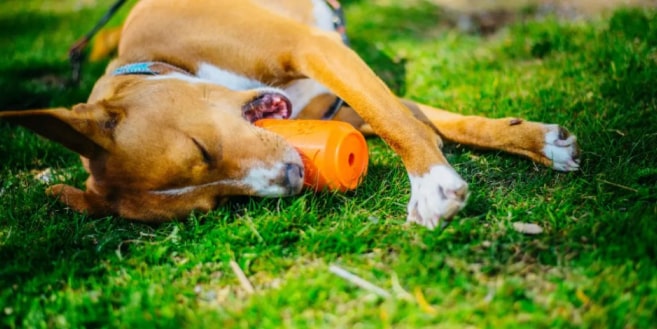 At SodaPup we specialize in creating fun and innovative dog toys for dogs that destroy everything! All of our products are made in the USA and are FDA compliant, meaning they are the safest dog toys in the market today. SodaPup has developed several brands, each with a unique theme that appeals to different consumer segments. Our brands are SodaPup, USA-K9, Industrial Dog, MuttsKickButt, Spotnik, and Harvard's Finest (our brand of grain-free dog treats). SodaPup gives back to the communities it serves, directing contributions to animal shelters as well as dog-related veterans organizations.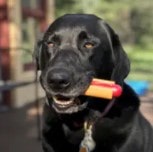 Designed In
Boulder, Colorado
If you're wanting a summarized review, here's what I'd give. Durability 9/10 - that rope detaching from it took away a point, but if it were on just the rubber grenade, I'd give it a perfect score. Aesthetic 10/10 - I thought this looked very detailed for a dog toy in this price range. Appealing to pet/entertaining 10/10. - He gets a kick out of how unpredictable the bounce is on this toy. Safety 7/10 - rope can come off if flung around enough, leaving a washer rattling inside of it. Price 9/10 - This particular size has a good price, but the next size up (which I wanted to buy) is almost 20 dollars. I'm glad I purchased this one instead of the XL one, though because it fits my brother's dog's mouth just fine. Overall 9/10 - considering this dog can tear up near about any toy in under an hour, I'm impressed with the quality to price ratio. I'd definitely buy another one when this one gets to the point where it's a choking hazard for him.

My pit bull terrier, Lucy, loves this toy. I fill it with treats and she plays with it for a long time. We will play with her using the tug, but really this is wonderful for her to play with on her own. I thought Lucy might chew through it, but so far no, she just loves playing with it. She will throw it around all on her own and prance with me in her mouth. Lucy will also just go with it and try to get the treats out. Overall this was a great purchase and we are all very happy. Yes, I would definitely recommend this.

These are by far my dog's favorite toy. I only wish the rope was sturdier material, as it comes untied or is chewed through quickly. But otherwise, these are amazingly constructed and my power chewer can't put a dent in them-- only toys I buy anymore! Great and indestructible. My dog loves the odd bounces this makes when landing. A nice changE of pace from a standard ball. He plays with it until he's exhausted. We rotate with a red one without a fuse. Awesome product!

Love this. I have 3 dogs. 2 German Shepard's and one Mal/Shep mix. The only thing that I can say is this thing can take a beating. The rope was very strong and the dogs could play tug forever. The rope didn't however stand up against the chewer of the 3, but the chew toy itself is still going strong. I have had the toy for seven months. It has been through multiple gnawing sessions and several games of tug o war between my dogs and has held up really well. Great buy if you have dogs that are hard on toys.

My explosive detection K9 needed some new rewards, and these fit the bill. They seem well built, just the right size and priced well.

One of my dogs favorite toys!

I have a Jack Russel mix and I noticed this had good reviews. I was skeptical of the rope (she tears them up easily), but luckily after 3 days of having it, she hasn't ripped it yet and she enjoys spinning it in circles. Would recommend!

Our little Bulldog can rip up toys and this is standing up to her

So awesome we ordered another one!! Totally recommend!!

German shepherd absolutely loves it, the only toy she hasn't chewed up! Thanks

One of my dogs favorite toys!

My dog is a very, very aggressive chewer. He also very enthusiastically loves new toys. We received this toy today, I washed it, and filled it with freeze dried liver treats. He chewed on for two hours straight and this is what it looks like now. It might seem bad that there is damage after only two hours but the wasn't expecting it to last 30 seconds. So, it's a great toy.

Great toy for my power chewer. Most toys only last a day or two. This is one of the only ones that have lasted.

My puppy loves this thing.

Bought this for my son's new puppy which is a German shorthaired. And his puppy loves it and plays with it often and hasn't torn it apart! so very good deal.

The only thing he got off was the rope everything else's is good it's definitely a good toy for aggressive chewers would recommend this to anyone if their dog is an aggressive chewer

Great toy for a dog. Can hide treats in the inside, but my dog loved the rope for tug of war

My pup Saddie loves her grenade!!!

Sturdy and durable. We switched out the rope for climbing nylon because my dog eats ripe.

Perfect toy I have is pit bulls and any toy I buy them they tear uppppp! But this toy has lasted for over a week now and they love it!

Rope was torn off within 30 minutes of our German Shepherd having the toy but the grenade part has lasted for a few weeks so far.

Good toy! But not as durable as I think.

Size and durability of this is GREAT! I know my Bernadoodle will have lots of FUN playing with it and getting TREATS too!

My dog loves it and he wasn't able to destroy it

Awesome! But my puppy destroyed it very fast. They are durable if you don't have a dog like mine!

Awesome toy for a chewer!!!

Great quality and reward for my working dog

Rope didn't last long but otherwise dogs love it.

The dogs love this toy and it has SURVIVED! We have had to face the sad fact that we have at least two aggressive chewers. Even other name brand toys that are supposed to last around these monsters, do not! This one has made it three days.

Best dog toy on the market!

Love that my dog hasn't destroyed it.
Payment & Security
Your payment information is processed securely. We do not store credit card details nor have access to your credit card information.