Description
A gem of your jewelry box
Feminine and charming – that's what this watch is. Add a soft touch to your everyday looks and embrace your inner goddess with this delicate piece. It'll be a gem of your overall image.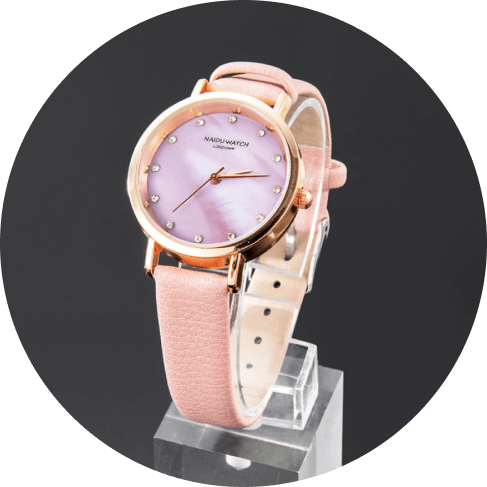 Embrace your inner goddess
A watch with a gentle and elegant design for any woman
Airy design for any look
The pink strap complements the golden case, creating a vibrant yet calm vibe. The dial looks like a big beautiful pearl, so hypnotizing to look at!
Durability on another level
Faux leather doesn't crack quickly and is stain- and UV-resistant. The zinc alloy casing resists corrosion. The pleasure will last a long time!
CE & RoHS certified
The watch meets the strictest standards when it comes to the safety of the wearers. No harmful materials were used at any part of the production.
Product specifications
Strap length: 8.26'' Strap width: 0.62'' Case thickness: 0.31'' Case diameter: 1.25'' Dial diameter: 1.25'' Certifications: CE & RoHS Adjust it however you like!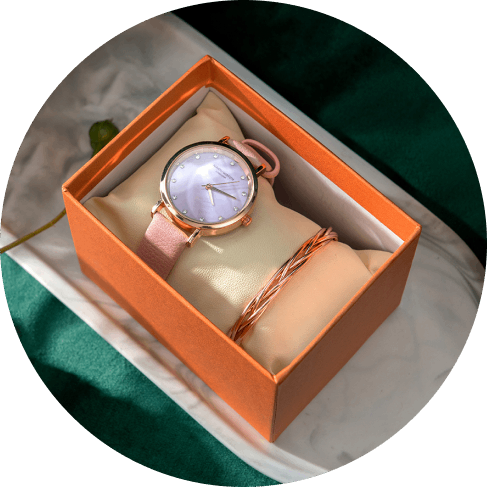 Chic and minimalist
If you like calm yet tasteful and lively designs – this watch is for you. Not flashy, but still beautiful and pleasant visually. We bet half of the time you'll look at the dial would be to enjoy its look! Comfortable and stylish – nothing else is needed.
This watch is awesome! Great value for the price and is so pretty. The band doesn't feel cheap at all and seems to be of very nice quality. It's exactly as pictured, if not more beautiful. I only received this as of today so I cannot comment yet on overall durability and quality. But for the price, it's quite a steal!

Thank goodness it's not too big! I have a small wrist which makes it hard to wear watches. They usually slide on me pretty easily. This one has several holes for a tighter fit and that's a big plus. Also, I was afraid of the pink looking childish, but it's not. It's very understated. Looks very sophisticated. I highly recommend it.

I wear it every day and it is still working great! Does not have any scratches on the face....and I am definitely not careful with it. I like that the face is smaller, because I have small wrists and larger watches look comical on me. I was worried about the pink, but it is a nice subtle color that doesn't scream girly.

A beautiful classy watch, with opaque color in the face. Looks exactly like in the picture. The band is comfortable, and the gold is eye-catching. I get compliments all the time and am very happy with this purchase 😊

I have many watches but most are too dressy. I just wanted an everyday watch to wear to the doctors and grocery shopping. This is perfect. Just enough gold to wear with a gold bracelet and look classy. Especially love the soft pink color. I am so very pleased.

This watch is cute, and the size is perfect. I've felt other watches were too large for my small wrists but this one is perfect. I love that the band is so thin. All in all, 5 stars. Will buy another if this one dies!

This is a very attractive watch, looks more expensive than it is, but I was disappointed to discover that it's so heavy on my wrist. Personally, I can't stand to wear it for very long.

I really like this watch. It is delivering everything I wanted from a watch and I really enjoy wearing it. Comfortable on my wrist, so easy to read.

Cute! I was searching for a basic watch for everyday wear and this is perfect. It's basic. It's cute. It's priced right. I like the size. I like the color (pink). Definitely recommend!

Not waterproof (small amount of water is fine but don't expect it to last in a puddle for a long period of time). Still beautiful and works well.

The watch is very nice looking on my wife. Time is accurate. Only problem is that it is hard to reduce the length of the wrist size.

The watch fits beautifully with room to spare on my wrist and keeps excellent time. I am so glad I bought this watch!

Absolutely love my new watch. I love light pink and gold together, warm looking. It feels great and comfortable :)

For the price, this watch is lovely! If you like gold, you especially will not be disappointed with it.

This watch is perfect for my small wrist. It is very comfortable, looks good and is easy to read.

I need a work horse watch that is inexpensive and reliable, so far this one is doing that.

Use for daily wear as an elementary school teacher. Does the job and looks nice.

Love this watch! Fits very well. Comfortable and looks just as pictured.

Perfect gift for a girl, mum or a woman you dearly cherish in your life.

I got this for my mom, so I haven't seen it in person, but she loves it.

Works well and is cute! I haven't had any issues with it whatsoever

This watch is beautiful but it is tight on my wrists.

Fits my daughter's dainty wrist! Looks good!

Petite and feminine watch. Love the colors.

I liked everything but the watch band.

It's cute and it works, but it's definitely cheap.

I wish it was slightly smaller

Decent enough for the price
Payment & Security
Your payment information is processed securely. We do not store credit card details nor have access to your credit card information.