Description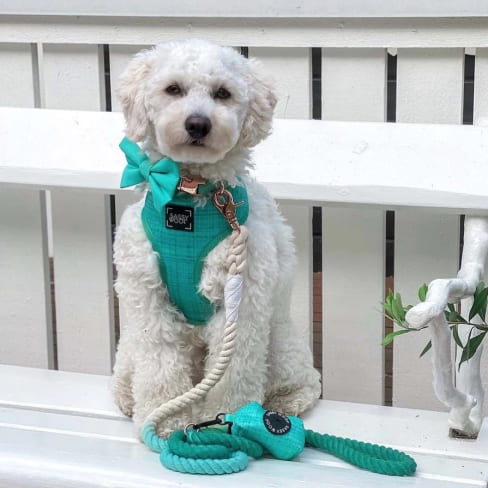 The perfect accessory for any occasion
Walk in style with this 'Wag your Teal' Waste Bag Holder! A Sassy Woof original, this print has been there since the start of the company and will go down as a classic.
Allows you to keep rolls at the ready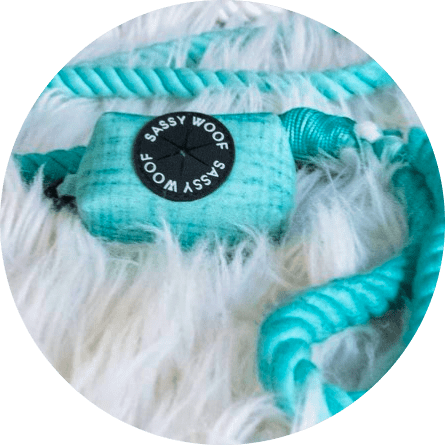 Looks absolutely gorgeous
The teal color is vibrant and the heavyweight neoprene material is sturdy. It isn't bulky and feels comfortable on your walks with your best friend. Includes one standard waste bag roll.
Easy to use & clean
You can easily clip this to your leash or bag, and there is a small zipper pull to replace the waste bags. Care instructions: spot clean with soap and water; hang to dry.
Making dog walkers job easier
It provides a classy, unique home to your dog poop bags and a stylish way to pick up after your dog. A great accessory to encourage removing dog waste from the environment and to keep the environment fresh and clean for you and for those around you. Measures 3" x 2.5" x 2". Feel free to mix in coins, your key, or some extra treats on your walk.
About SASSY WOOF
Modern. Classy. Affordable. Inspired by our two sassy & spunky dachshunds Maya The Dox and Winston The Dox, we created Sassy Woof to deliver a dog apparel experience that makes your fur-baby feel comfortable and fit for daily use. Our designs are the direct result of endless hours of careful thinking and meticulous attention to detail and crafting. We focus in developing new accessories and products every season to keep your pup's wardrobe as fresh as yours without breaking the bank. Our customers are like our family and we love interacting with each and all of you! Sassy Woof is a small business proudly based out of the suburbs of Washington D.C. A portion of our proceeds are donated to animal charities because no pet should suffer in this world.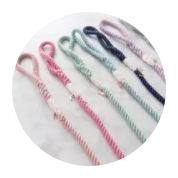 Designed In
Sterling, Virginia
I like this product because I can put a roll of litter bags, very small bottle of hand sanitizer, credit card, money, and lipstick inside. Then I don't have to carry a purse.

The dispenser itself is great - fits nicely on the leash and is a good size. My only complaint is about the bags it comes with. They are small and very thin, making it harder to clean up after our dog without getting any of her mess on me. After using several of the bags, I swapped them out for the larger, sturdier ones I had from before. Much much better now!

I reordered this after the first one a year later broke; to be very fair my pup and I go on long hikes and are generally rough on gear. But is was a great purchase which is why I bought a second one. Really great product!

This design is so much better than the kind than dangle from the leash. Works great. Liked it so much I ordered one for my mom.

No more plastic containers that bang against your hand while you walk your dog. No more cheap containers that snap loose. I use the carabiner clip to attach it to my leash and the straps that attach to the flat leash are somewhat loose, so I may sew it on. I'd definitely buy it again.

Exactly as advertised. Functional and cute. Lots of room for more bags and it is good quality. I'm happy with my purchase.

I love this dispenser. Before I found this one I broke one, lost the twist off cap for two others and was very frustrated. This is light weight, made of fabric so it can't break and there are no removable parts to lose. I will definitely buy another one. I will never use plastic again.
Payment & Security
Your payment information is processed securely. We do not store credit card details nor have access to your credit card information.