Description
Dazzling looks + must-have function
Keep your car's tissue box in place (so it doesn't fly with every turn of the wheel) when you strap it in place with our White Rhinestone Car Tissue Box Cover.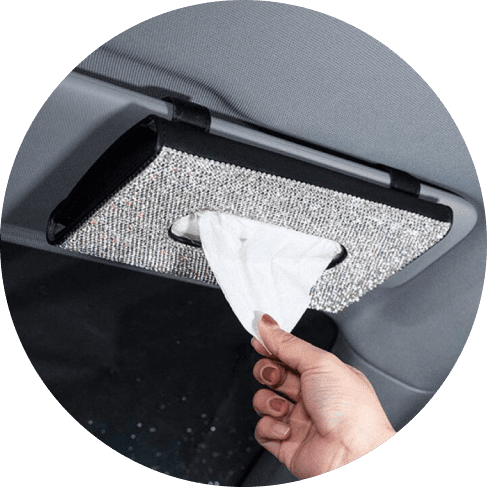 For runny noses + more
Have what you need within reach
Stellar construction that lasts
Crafted from polyurethane leather that's soft to the touch, this tissue box cover adds sleek convenience that is non-obstructive.
Shine on
If you're tired of the dull black and grey feel of most car interiors, bejewel the mood with this rhinestone-adorned accessory.
One size doesn't fit all
Remember, this box measures 5.12" x 9.05" (L x W) and only fits flat rectangular tissues boxes. It does not fit square or larger-sized boxes.
Clip it anywhere
From your sun visor to backseat pocket, our White Rhinestone Car Tissue Box Cover is designed with a velcro strap for easy closure and sleek clips for a firm hold.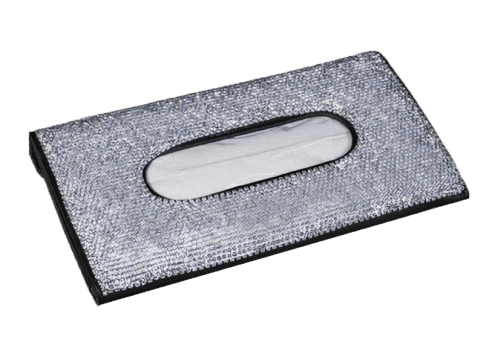 Convenience for everyone
From driver to passengers, this tissue box cover ensures your tissues don't get crushed while staying within reach for everyone.
I love it! Because of the pandemic I'm required to constantly wear a mask. I often forget to pack new ones and I never liked hanging them from the rear view mirror. I saw this idea of using this to store them in the car somewhere else and jumped to buy one. It is made out of a plastic material, but is sturdier than I anticipated. The velcro is very strong as well. It holds approximately 15 masks at a time. I'm tempted to order another! It is not only functional, it is also very cute! I am not disappointed.

I love this beautiful, blingy tissue holder. It is SO sparkly! Perfect addition to the other aqua crystal decorations I have in my car. I put it on the driver door pocket instead of on the visor. That way it is easy to reach but doesn't distract me. I gave it 4 stars just because if you fill it all the way with tissues it is hard to get them out without ripping. For best results only put in a small amount, so that means frequent refilling. Still, absolutely worth it for the pretty bling it adds!

Exactly what I wanted: to add some bling and keep tissues where I can easily reach, because I use them pretty often. I have this on the passenger side visor because I don't want it in my eyes. It's not too heavy for the visor but my car is newer, it may cause some sag in an older vehicle.

I purchased this to access my tissues easily while I'm driving and also dress up my pretty new Toyota SE sport edition! I Iove it! It's even prettier in person. Super sparkly. Adjustable and easy to install. Very convenient. Easy to fill and holds a good amount of tissue! Terrific price!

I bought this tissue box cover for my vehicle. I am now able to find the tissue in my vehicle when I need it, it usually gets pushed under the seat or out of reach. Now it's there when I need it and it keeps the box from getting smashed up. I love it.

I like the product because it helped us organize a few things in the car, like the masks. We needed it because we put masks in the car in case we needed one, especially when going to the gym. It's very useful for us. Does a great job!♥️♥️♥️

Bought it as a mask dispenser. I can only have a few at a time so the straps don't rip when I pull them out, and my visor is a little thick so it's a bit of a tight fit, but it definitely serves the function I bought it for.

I bought this to hold disposable masks in. It works well & looks good. Yes, it's not perfect in looks but it's not horrible & as it's only for my car I don't mind. It did have a very strong odor but I aired it out before putting it in my car & it was fine.

Great construction and look. The "bling" was exactly what I was looking for and looked AWESOME with my other car bling. Would recommend and would buy another for my back seat area.

I love it, so sparkly!! No cheap diamonds baby! I use it for masks in my car, but I think it would be very convenient for tissues too

Good quality, very easy to install, very sturdy, very handy. My entire family have allergies so this helps out a lot and goes with the rest of my interior bling

Adorable piece!!! Fits about 10 disposable prewrapped masks without squishing them. Very snug fit. Great purchase

Super cute tissue holder that I actually use as a disposable mask holder.

Really pretty and sparkly and I use it for my disposable masks it's perfect
Payment & Security
Your payment information is processed securely. We do not store credit card details nor have access to your credit card information.