Description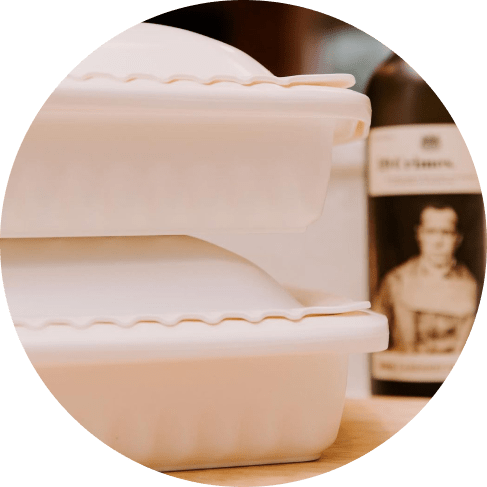 White Serving Carrier for Foil Pans
Behold a patent, award-winning, all-in-one serving & casserole carrier for foil pans! It gives you the look of a casserole dish, but made out of plastic.
Features & benefits
Why use the Foil Decor carrier
Multifunctional & stylish
The snap-on lid can be inverted and used as a bowl when serving your favorite dip in style. It works great for chips, crackers, buns, etc.
Perfect for any occasion
The only choice for potlucks, holiday events, tailgating, parties & picnics. Dress up your foil disposable baking pans in this bold red color at your next dinner party.
Heat-resistant & durable
This sturdy plastic casserole dish with a lid is heat-resistant and can house aluminum baking pans up to 375 degrees Fahrenheit.
Excellent for house parties
No need to wait till your guests finish their meals. Take your foil pan out of the Foil Decor system & leave it for the guest to enjoy.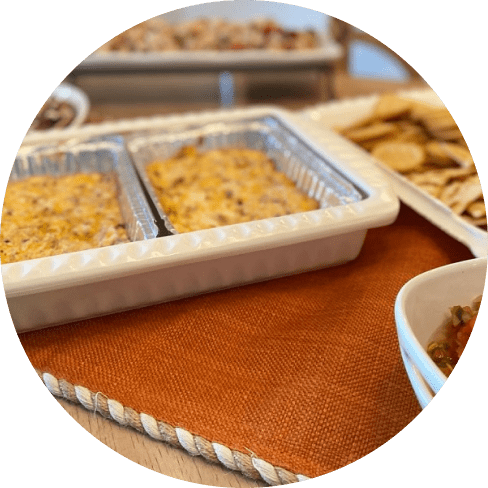 How does the Foil Decor carrier work?
There are three components included: the base, the ring, & the lid. Place the foil pan directly into the base, secure the ring on the base over the rim of the pan. The ring then snaps in place securing the pan.
Safe and easy to transport
This system locks your foil pan in place to reduce spills. Its heat-resistant plastic handles allow you to carry it safely. The lid snaps securely in place, sealing in heat and preventing spills.
What makes our product unique?
Improving the experience of serving food for events
A common problem with foil pans is they are flimsy, not attractive, and hard to transport. This serving carrier has 3 components that work as a system to lock your foil pan in place. This turns your disposable foil pan into an elegant casserole dish. The components are reusable, super easy to clean, and stackable. Take the foil pan straight from the oven, put into the carrier, and off you go! We include 2 foil pans in the package.
I recommend this product. Quick shipping and awesome product.

This is a brilliant idea! They are very sturdy and well made. Perfect for potlucks and BBQs!

Just got mine! Love it. Made very well.

Even though I haven't used this yet I can tell it's going to be wonderful. It appears to be very sturdy and attractive.

Very sturdy, looks awesome, great for gifts and so easy to clean. Get this you will not regret it!

I love the idea of this product, but it is not deep enough to put pans with anything but the most shallow depth. When I take food somewhere, it is usually a lot of food and a small, shallow pan won't do.

Best product ever! I use mine for every cook out, dinner party , sports and beach event!

Amazing product perfect for potluck!!!

Love this product! Makes a great gift!!

My Foil Decor is popular at every tailgate 🏈regardless of what I put in it. It's sturdy, easy to use and classy.

Great product. Easy to use and makes transporting or putting leftovers away easy. With the foil pans less mess and easy cleanup.

This is a must have product. What a great way to bring a dish to a gathering. Everyone will ask where you got it.

This just arrived yesterday. Bought 2 of these for my husband to use at the outdoor kitchen. He opened the box and said how perfect a choice they are. Domed top, heat containment, little cleanup 👍👍👍. Highly recommend!
Payment & Security
Your payment information is processed securely. We do not store credit card details nor have access to your credit card information.