Description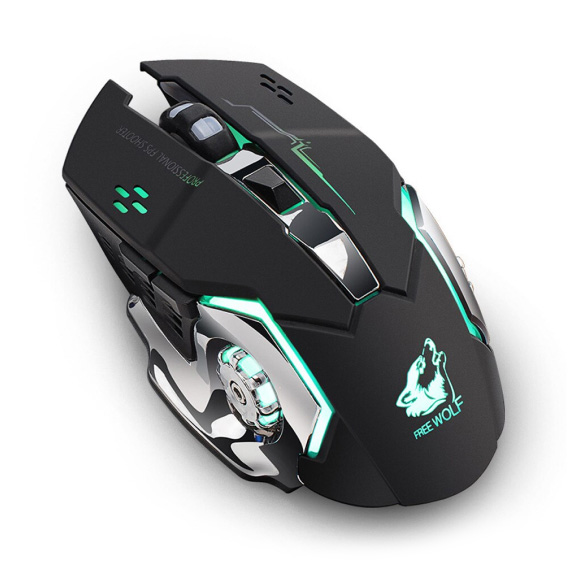 Bring your mouse to life
Elevate your gaming experience with our dynamic, ultra-cool Wireless Silent Gaming Mouse that's designed to look like a super tool straight out of a video game yet function with just as stellar finesse. No more clicking loudly with a boring ordinary mouse; upgrade today to this stylish, light-up mouse.
Zoom in. Click in. All with incredible accuracy.
Because the last thing anyone wants is frustrating clicking away at work or in an intense battle game with a mouse that's lackluster. Our powerful build includes three customizable DPI settings (800, 1600, 2400) for adjustable sensitivity for your work or gaming needs.
Six buttons. One super mouse.
With two side buttons, a DPI key, light power button, and standard-click and right-click buttons, our mouse allows for greater functionality.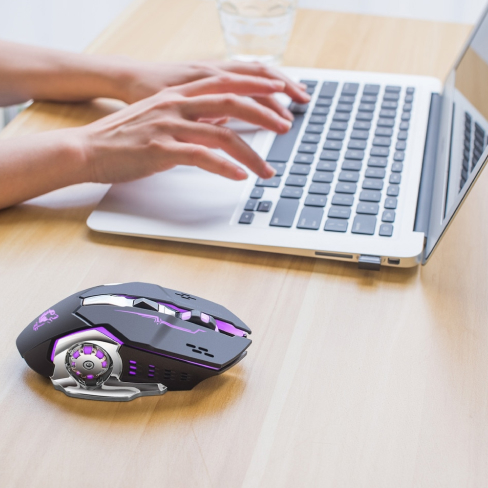 A light that comes to life
Each Wireless Silent Gaming Mouse is equipped with a built-in LED light that comes to life with the switch of a button. A silent glow lights up your workspace while adding character (and it looks super cool when in your gaming room or a dimly-lit space).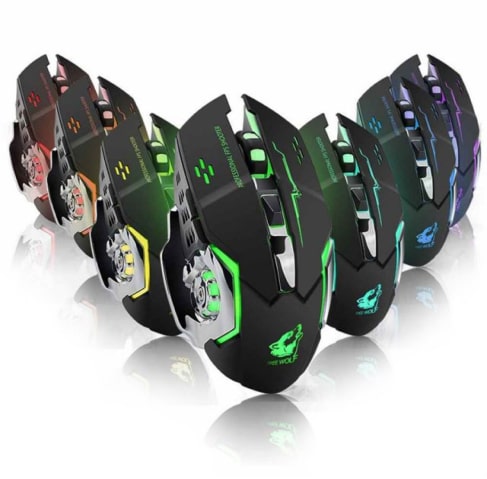 Slim, sleek, stylish
Crafted with expert detail from ABS plastic and iron, our mouse is ergonomic and lightweight. Choose from black or white finishes for a versatile look that matches most laptops and computers. Connect wirelessly to your device with a USB wireless receiver that you plug into your main device, and you're ready to go.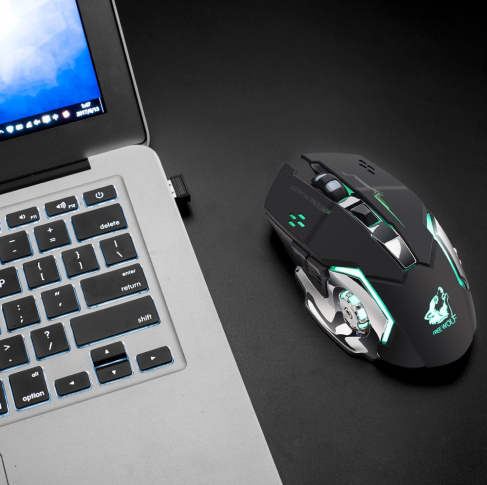 Charge anywhere and use immediately
USB-chargeability makes our Wireless Silent Gaming Mouse even more wonderful. Powered by built-in lithium batteries (included), you just need to charge up the mouse (it takes about three hours) by connecting it via a USB cord to your laptop, computer, or a portable power bank. Our mouse doesn't require any drivers or hardware to use (just make sure the USB wireless receiver is plugged into your laptop).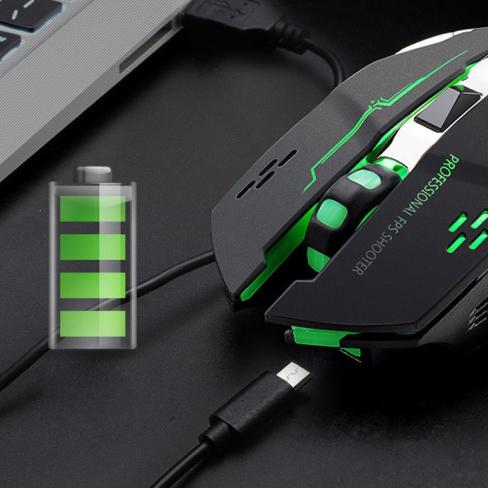 The product corresponds to the description. Everything works, everything suits. I recommend this product.

Love it super comfy charged through micro USB and really good battery. I use it with my razer blade and Mac . So a gaming as well as work mouse. Got a wired version before returned that and ended up with this. Really good customer service and delivery service

I've been gaming on PC for longer than I'd care to admit, and been playing World of Warcraft (casual to hardcore raiding and back) since it launched in 2004. I've tried several wireless gaming mice over the years, and they always ended up disappointing me. Largely because of the tracking issues (i.e., the pointer skipping across the screen or inaccurate pointer movement), but also because of the battery. So I figured I'd have to just live with a wired mouse for gaming. I bought this mouse and now it is much easier to play my favorites games.

Im a graphic designer and not a gamer but i am very picky about mouse in general as i am a power PC user meaning i live on my computer this is the only mouse that can take my use like a boss and i love that it is such high DPI this is the mouse you are looking for.

1. It is a cheap option that is available in the market that solves the purpose perfectly. The sensitivity is great and easy to use 2. Love the lighting effects. The scroller is equally good 3. After long usage, the hands don't pain which has been an issue with several other gaming mouses

I love this mouse so much. I am a huge gamer and it has massively improved my aim and reaction times as the mouse is very responsive. It has two buttons on the left hand side to bind to keys. It lights up just as expected and also matches the colours of my mechanical razer keyboard which is a lovely touch. Definitely reccomend.

I never thought that a simple gadget that I use to get work done would increase how fun working is. I plugged this mouse into my laptop, and it immediately started glowing - first blue, and then purple.. Awesome product!

Don't get me wrong, can you get better mice? Of course you can. But for this price? No, I don't believe so

Great price point and fits comfortable in your hand. Haven't used this mouse for gaming yet, but is great for casual browsing. I actually prefer old school clicking noises in my mouses, but for anyone else who want silent mouses, then this isn't for you. However, it changes color, fits comfortably in your hand, sleek, and at a affordable price, so I definitely recommend this to anyone.

000Im a graphic designer and not a gamer but i am very picky about mouse in general as i am a power PC user meaning i live on my computer this is the only mouse that can take my use like a boss and i love that it is such high DPI this is the mouse you are looking for.

I have never had better customer service than with this product

I like how quiet and the adjustable pressure on the buttons. But absolutely not my size

his mouse is amazing for the price i love everything about it.

Feels a bit large and slightly uncomfortable in my hand. Something is just a bit off with the ergonomics. Features and weight are great.

Mouse is silent, great for a game that requires a lot of clicking! Works amazing, smooth and gets very precise. My only complaint, even with all the weights out, it still seems heavy.

It feels really comfortable in my hand (the size is perfect for me)

I love this mouse. It has everything you could ask for in a mouse, and it is a million times better than my old one. I will definitely be using this one until it breaks, as I have no complaints.

I'm leaving a four star review as of now because I really want to test the product, so far it's a four star because it feels really nice and I like the features it provides.

like that the lights on the mouse change color to instantly show you your DPI setting

This is a very good option for the price point, with some nice features that you might expect to see in a more expensive mouse. It's very functional

it is a great value and is ideal when you don't want to hear loud mouse clicks, whether gaming or not.

5 stars are for the perfect product, but there is nothing completely perfect in this world.................

When I bought my iMac, the Apple folks told me I'd never want to use another mouse than theirs... Ha.

I got this mouse for my son to use on his XBox. When he plugged it in, it worked with no issues

My fiancé and I absolutely love this.

I think this mouse does a great job with sensitivity, and being programmed to cover exactly as much screen as I like in the time I like. Highly responsible and built well, I recommend it.

This is a really nice mouse!

Love, love, love this mouse.

Bought this mouse to have something for when my baby is born early next year. I want to avoid cables, but with how expensive wireless mice can be, this is a great budget gaming mouse

great price, good mouse. Worth the purchase.

Bought it for my brother a few months ago, who plays too many games. However, I asked him recently if he was happy with it and he said it was the best thing. Great quality and design.

A good mouse ...just like in description
Payment & Security
Your payment information is processed securely. We do not store credit card details nor have access to your credit card information.