Description
Elegant women's watch
A leather strap for pure grace and comfort
A great wrist watch that combines a fashionable and classic look in one stylish timepiece. Expose yourself to a reliable and comfortable wearing experience.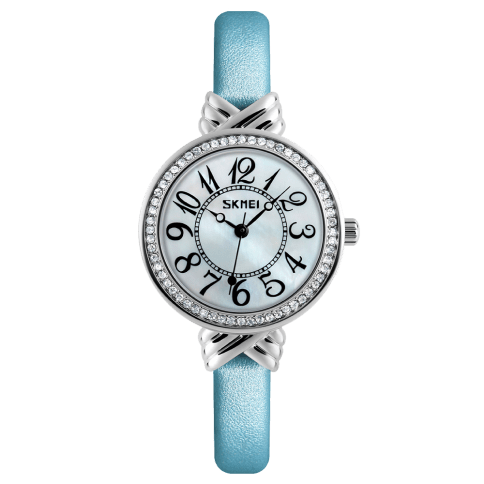 Watch specifications
The watch that can meet your daily use
High hardness glass
Imported German high-hardness, scratch-resistant glass gives the watch a longer life and good shine.
Watch movement type
Quality quartz movement accuracy (loses/gains not more than seconds per month) and a Japanese battery for long battery life.
Exquisite rhinestone dial
Looks elegant and stylish yet comfortable for wearing on all occasions, especially with Indian outfits. Exquisite high quality genuine leather band comfortable for wearing on all occasions.
Watch details
Dial color: blue. Case shape: round. Case materials: zinc alloy. Band material: leather. Buckle: stainless steel. Dial width: 1.1". Dial thickness: 0.3". Band width: 0.3". Watch length: 8.9". Dial diameter: 1.1". Weight: 0.8 ounces.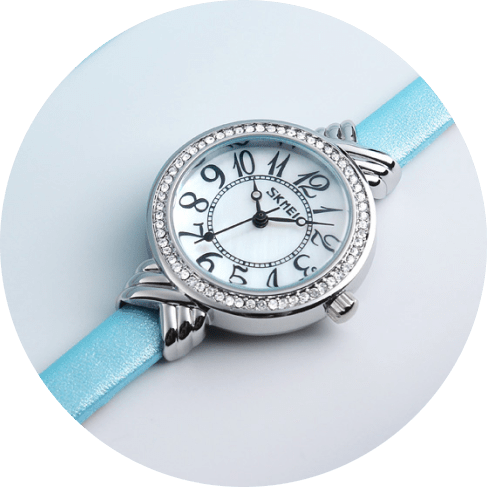 Pure grace and beauty
Appropriate for all kinds of life situations and all your needs. 98 ft waterproof for daily life. If you get caught in the rain or need to wash your hands, you can do so without any trouble. Cute, fashionable, and elegant - everything you need!
I purchased this as a gift for my Mom. She absolutely enjoys this watch. It is very easy for her to read the numbers. She is very pleased with the quality of the watch. There were even enough holes in the wrist band to fit her small wrist! That is also a plus!

I know this is a cheap watch, but it looks and feels really expensive. The leather doesn't crack or irritate the skin, the face is of a very nice color, and the dial looks very unique. Can't express how beautiful it looks in any setting!

I love this watch, It is exactly what I was looking for. Face of the watch is beautiful and the light blue leather band really complements it. I have received several compliments on it. I would buy it again.

I purchased this watch to wear when working. I like the leather band, however I have a very small wrist and the band is too long. It is very attractive and comfortable

Great watch! Face is nice and light so the hands show up well. It has a send hand which is something I was looking for but did not realize until I received it. Good value!

I purchased this as a gift for my grandmother. The size of the numbers on the dial were perfect for her and she really likes this watch.

Got this as a gift from my mom and it's a perfect present for me! Nice, elegant, feminine - everything I've been looking for in a watch!!!!

Band was stiff at first, but softened up after a little wear. Keeps perfect time. Easy to set. Easy to read.

I was pleased with this watch. It looks like a more expensive watch. It's easy to read and very comfortable.

The dial is easy to read and it looks very professional. The band feels comfortable and just of a proper length.

Love my new watch. Works great and looks very stylish. I am pleased with my purchase.

I like the style of the face and that it has a second hand. The numbers font is nice, also.
Payment & Security
Your payment information is processed securely. We do not store credit card details nor have access to your credit card information.