Description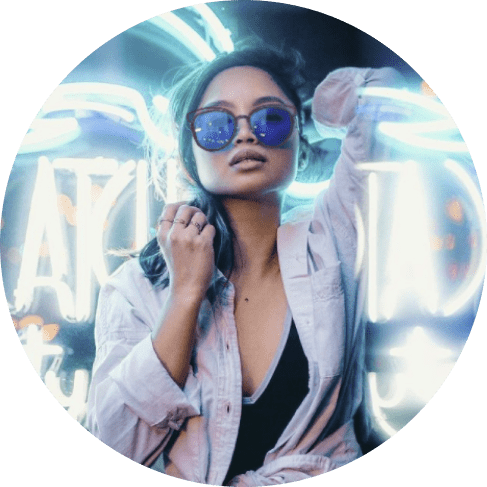 A new take on a classic
For a confident, bold look
Cat-eye sunglasses always add a chic touch. zeroUV's Women's Blue Gradient Wire-Detail Sunglasses take style to the next level with bold blue color and luxe wire accenting for a pair of stunna shades like no other.
Pop on some color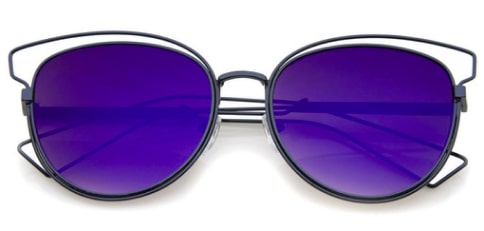 It's in the details
Polished wire detailing creates a flirty cat-eye silhouette to these sunglasses, so you can rock a modern look out and about. Metal cut-out arms create architectural elegance that is bold yet not overwhelming.
Crafted to last
These shades are made with a metal-based frame, metal hinges, and mirrored polycarbonate lenses that offer full UVA/UVB protection.
Set your sights on a must-have accessory
Since 2001, zeroUV has been a destination for trendy eyewear that helps people discover individuality and confidence, with infinite ways to eye protection that's always in style.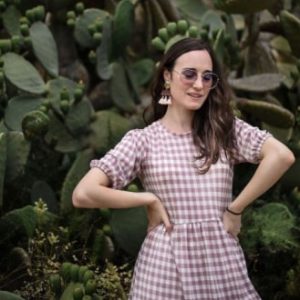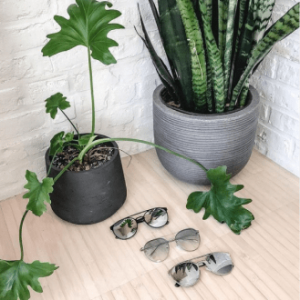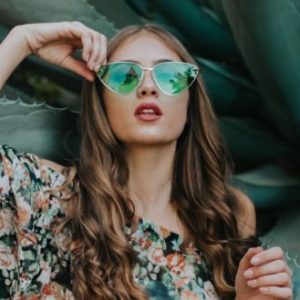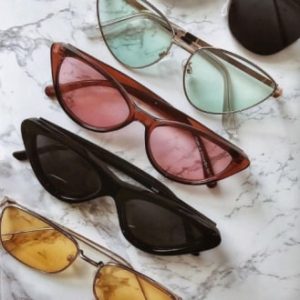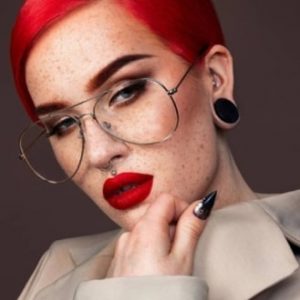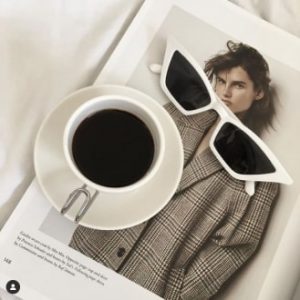 About zeroUV
Founded in 2001 by eyewear enthusiasts, zeroUV has become a prodigiously curated eyewear boutique for the fashion savvy individual. At zeroUV we strive to bring our customers the latest in eyewear fashion for a fraction of high retail prices. We at zeroUV view ourselves as lifestyle advocates. We seek to inspire others to chase who they truly see themselves as. Founded by individuals who grew up during the California indie movement, we aim to share our journey with our fans. We pride ourselves on bringing people together through our brand, and we encourage others to follow us along this amazing adventure. Not only are sunglasses a staple in fashion and appearance, zeroUV Sunglasses offer full eye protection against harmful UVA & UVB rays. In addition all eye wear meets the United States ANSI z80.3 Standard, as well as satisfies European CE Safety Compliance Standards.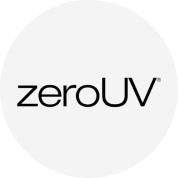 Designed In
Huntington Beach, California
They are so beautiful! Very sturdy and great quality.

My wife loves these glasses.

Great value for the quality, highly recommended!!!!!!!!!!!

it's a great value for the money and I would repurchase these and recommend them.

Love these glasses! Super comfortable. Great sun shade, and look super cute with everything!

I love these! This is my second pair, and they are the best. I have very sensitive eyes and these provide great protection. It's amazing that they are so reasonably priced!

Great buy! Came so fast too I was able to bring it to the beach! A little too big for my face but that's just something we can't know for sure when buying online and can't try on the glasses. But overall these sunnies are quality and affordable trendy sunglasses!

I LOVE IT!!!!! OMG THIS IS A REALLY GREAT ONE SUNGLASSES. It comes very well packed, I had no issue with it. And the quality... It is GREAT.

These are super cute and comfortable. They are pretty lightweight. Definitely my new favorite pair.

These are so cute and well made. They're lightweight, and look more expensive than they were.

They are really sturdy and great quality for the price. Love the color and the shape. I have a round face and I was hoping I could pull these off, sadly they don't look that great on me, but I will be keeping them as a backup pair. They also seem to stay pretty clean longer than some of my other pairs? For the price and quality, they make a great extra pair to pop on when on quick errands.

I've received several compliments on these glasses. They do a great job of blocking the sun, I do not have to squint while wearing them.

They're excessively large and to my face but the quality is way too good. So if you are into oversized sunglasses these are just perfect!

Lovely lightweight, great quality viewing, no distortions, gentle sun protection for glaring valley sun.

These sunglasses are such great quality for the price. The packaging was pristine. I receive so many compliments. These are truly like designer frames for a low price. I plan to buy more!

I love the style and the color of the lenses, the first time I've ever bought glasses online, I just knew I'd love them! My optician friend was shocked when I told how much they cost! The value is just incredible!

I love these glasses so much! I've bought so many sunglasses in my life and these ones are extremely comfortable and stylish! I get tons of compliments for them whenever I wear them.

These are my new favorite sunglasses! They fit so well, block sun great and don't get stuck in your hair when you put them on your head! I don't usually write reviews but I just love them so much! Not to mention they are adorable!

Took a chance because my large head is terribly hard to fit with glasses, but these didn't even need temple adjustment. The larger lens size really keeps the sun from sneaking in at the sides. They look good, feel good, and are a great buy.

Great buy for the price! I'm honestly shocked at the quality considering how inexpensive they were. I really love this brand and own several different pairs from them now. I just can't bring myself to spend a crazy amount of money on glasses that I might scratch or break. 😊

I bought these a couple weeks ago, and I wear them almost everyday! I get tons of compliments on these sunnies and they fit very well. The frames also appear very durable and made to last. They come nicely packaged. Very happy with this purchase.

These sturdy, affordable glasses are beautiful to look at and function well. They fit nicely on my face and stay in place while being flexible enough to be comfortable on my face or the top of my head for hours. They have a nice weight to them. The shape of the lenses are quite complementary. Can't recommend them enough!

Love these glasses! Amazing quality for the money. I used to spend soo much money on sunglasses but it's brands like this that made me change my shopping habits and have saved me so much money! I love the shape of these glasses and the darkness of the blue pattern - super stylish and can be dressed up or down. I love that these aren't "thick" on your face. These did not disappoint! Highly recommend it! 👌😎
Payment & Security
Your payment information is processed securely. We do not store credit card details nor have access to your credit card information.