Description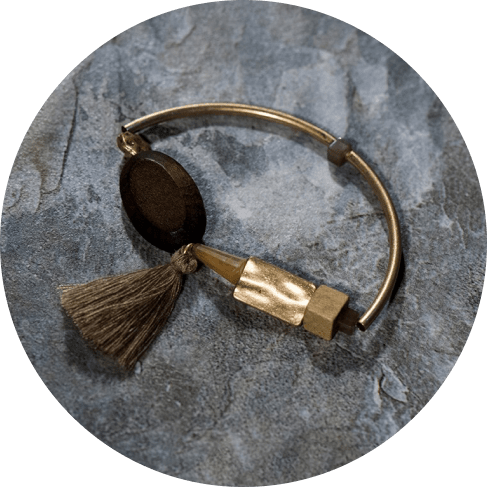 Magnificent elegance
A stunning accessory
These charming Wooden Bead Bracelets will wonderfully complement your daily outfits and become a fantastic addition to your jewelry collection.
The accessory made to turn heads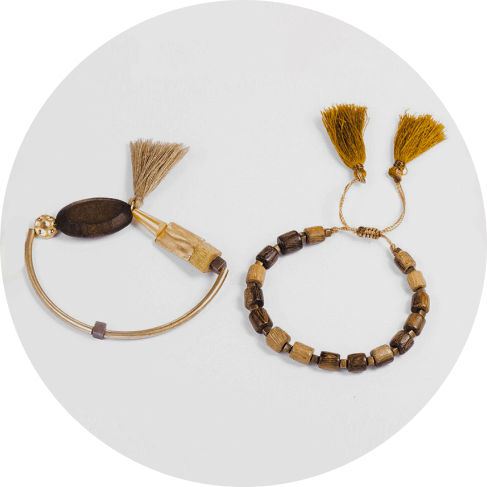 Bracelets characteristic
The set includes two bracelets. One is composed of small wooden beads of the same size and decorated with two cute tassels. Another one is made of brass and wooden beads of different shapes tied with a straw colored tassel.
Care tips
Keep the bracelets in a cool, dry place. If needed, dry with a soft cloth. Do not submerge in water. Store out of sunlight. Avoid exposing the bracelets to harsh chemicals and cleaning products.
A meaningful gift
Surprise your loved one with these awesome Wooden Bead Bracelets! Whether it's someone's birthday or any other occasion, this set is a wonderful choice for a gift. While being stylish and fancy, Wooden Bead Bracelets hold a deep meaning as well. They are believed to bring abundance and good health into its wearer's life.
Well I can say that I like them, both of them. I usually don't wear them both at the same time. I like that they are made of wood, not of plastic, it makes me feel like I do something important for the planet. And at the same time they are pretty and elegant, so I wear one every day.

They are a little bit big for my hand, but I managed to make them smaller. The color is very natural so I like to wear them with some natural prints. They are very light, sometimes I forget that I have them on my hand. A very nice bracelets at a very nice price!

Such an amazing set, I bought it for myself, but gifted to my sister as she loved it so much :) now have to buy more for myself

I expected it to be a little bigger, but still love it. It is very comfortable to wear, and looks nice.

Good size. Looks very nice in person. Got it for my girlfriend. She loves it

I don't like the color, and I thought it would be bigger, but still nice

In the photos they looked bigger, but it's not a problem for me

I got what I've expected to get, and I like the quality

Looks like in photos. The quality is good as well!

Cute bracelet, comfortable to wear

Beautiful comfortable bracelet
Payment & Security
Your payment information is processed securely. We do not store credit card details nor have access to your credit card information.