Description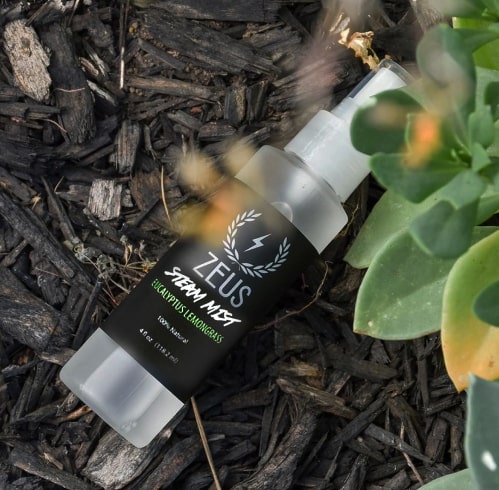 All-around relaxation
Balance your mood and spirit and take a deep breath. A few spritzes of our Zeus Eucalyptus Lemongrass Steam Mist, and you'll feel much more relaxed and at ease. From office to home or on the go, relieve anxiety and stress and ward off bad vibes with our superstar spray.
Nature's zen team
(In a bottle)
Unstuff the stuffy
Discover the sinus-clearing power of eucalyptus oil and lemongrass oil. Blast through congestion and calm the senses with this "ommmmm"-worthy wonder.
For the shower, grooming, and more
Spritz our mist into the shower for steam-activated sinus therapy, spray onto a hot towel and apply to skin before shaving. Our zen-powered mist can do it all.
Scent therapy that lasts
Spray the Zeus Eucalyptus Lemongrass Steam Mist into any room or space for a quick pick-me-up.
Plenty to go around
You get four ounces of our magical concoction in every order, for long-time use.
Inspired by effortless style
Founded in 2013, Zeus is a Southern-California-based men's lifestyle brand for grooming that uses ingredients that are as natural and organic as possible -- so every guy can feel refreshed.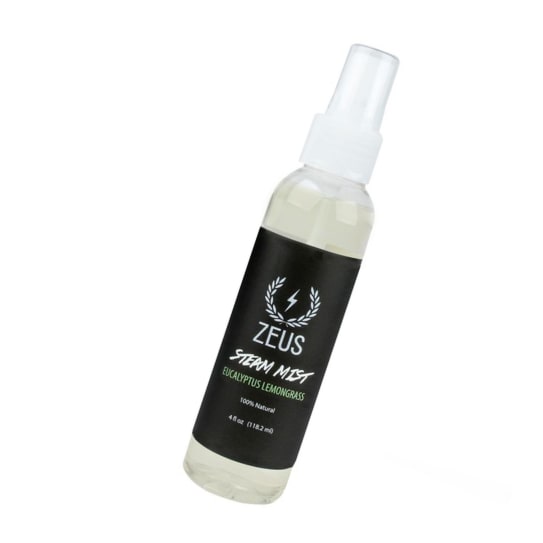 About Zeus Beard
In 2013, we started Zeus humbly with a beard oil, a beard brush, and a mission: create high-quality products for beardsmen that work. We are inspired by the outdoor lifestyle and surf culture, so our products are built to keep your beard looking good no matter where your adventures take you. We formulate our beard care products with natural ingredients, incorporating organic and local ingredients whenever possible. Committed to our environment as well as the safety of our bearded brotherhood, we never test on animals and our products are paraben-free and sulfate-free. Each product is put through extensive testing by our beard community. In addition to providing stellar grooming tools for beardsmen, we have introduced products designed to deliver effortless style, whether you have a beard or not, because we're here to help all guys look fresh. From pomades to dopp bags, we've got you covered.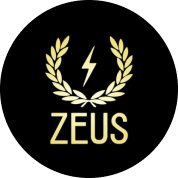 Designed In
Costa Mesa, California
I love spraying this into the shower for an invigorating start to my day! Smells great and I'm hoping it's acting as a preventative to getting a cold.

I am loving this spray as a shaving spray. So refreshing and leaves a smooth finish!

We have been trying to switch to as many natural products as possible. I was so excited to get this Eucalyptus spray in time for the cold season. I didn't even realize all of the other uses when I ordered it!

I use it every night when I wash my face. I put hot water in the sink with one spray. It is wonderful to use a washcloth that has been dipped into the water to rinse my face.

I love this product. I bought one for the steam room at my gym, and one for the home shower. The scent is not overpowering, and helps clear the sinuses.

While this was intended for my husband to use for shaving, I have selfishly claimed it for myself!! The smell is intoxicating!! I have used it in the shower, bath tub, on my towels, to shave, etc. it smells so good My bathroom smells like the spa. I have even sprayed it on my pillows!! Ha! Seriously. It's great. A good strong (not overpowering) eucalyptus scent. It's pure oil. No additives. It's actually a great sized bottle to travel with also. I tucked it into my purse and brought it to work this week for a quick pick me up!! Such a fan!!

When I received this I was amazed at how wonderful it smelt! It sprays a nice fine mist! The package comes with the bottle, sealed with a lid. Then it has a separate spray head. This makes for easy traveling! It's a 4oz container, great size and you don't have to worry about product leaking out of the sprayer! It also comes in a nice ziplock plastic bag for easy storage! I have noticed a lot of peaceful sleeping when sprayed on my pillows!

Another GREAT Zeus product! My husband has a spectacular beard (really, he get compliments on it all the time) and we both love the Zeus products. He loves them for their quality, and I love them for the smell and quality ingredients. I am SUPER picky about scents and all of the Zeus products smell great - and this is no exception. I am pretty excited that this eucalyptus spray can also be used in the shower! Who doesn't love products with multiple uses? Spray a bit of this in a hot, steamy shower and you have the perfect answer to seasonal stuffiness! I highly recommend this and all Zeus products!

So I guess I like it. It was an acquired taste; initially it seemed a bit off. I spray it in steaming hot water in the shower before I turn down the heat and get in. I also add a bunch of drops of other eucalyptus oils in the corners and edges of the shower. It has become part of my routine. Helps me breathe and feel refreshed. The smell is a little different than other oils but it works out really well for me.

I find the scent a bit overwhelming sometimes but it sure does feel refreshing
Payment & Security
Your payment information is processed securely. We do not store credit card details nor have access to your credit card information.